Yes, you are like a plant!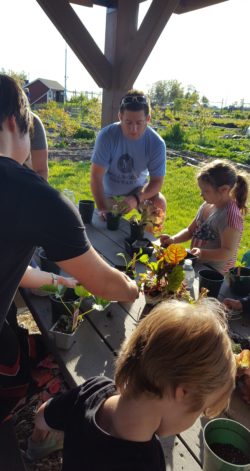 How are you like a plant? In many ways actually! You thrive just like a plant does when given all the right resources-sun, nutrients, warmth, and deep roots! You too have an innate wisdom to heal. Should you wait until a plant is wilted to give it water or anything else it needs? All the same it is wise to care for your nerve system to allow you to thrive, as this is your system to true vitality. Click here to find out more, and read about our recent community children's event below.
The Butler Township Community Garden hosted its first Summer Children's class "How am I Like a Plant?" on Tuesday, May 16th.  Dr. Rachel Leskosky, family chiropractor from Life Expression Wellness Center, Sugarloaf, instructed the children ages two through ten years
old.  The children learned the similarities between the human body and plants with the nerve and root system that allows both to grow, function and maintain health. Children enjoyed the presentation and the opportunity to plant their own plant for home.  They also explored the community garden.
Lindsay Walsh, who has a garden plot at the garden shared, "My daughters and I had so much fun with Dr. Rachel, comparing our bodies to plants. We also loved planting our own little strawberry plants! We're enjoying watching them grow."
Jo Robbins, garden director, shared information about the Butler Township "Human Nature" Community Garden.  It is a is a 1.3 acre community and demonstration garden operating within the Township's Freedom Park complex in Drums. The garden has expanded to ninety plots and raised garden beds. It provides plentiful opportunity for community members to learn, garden, and eat their own produce. It also serves as a teaching garden for sustainable agriculture and organic gardening.
Plants and materials were donated by Visintainer's Nursery in Drums and Covered Wagon in Conyngham. Information about the Butler Township Community Garden can be found at
www.digclds.org
Join us next time! "How am I Like a Plant?" will be featured twice again this summer on Tuesday, June 27th at 6:00 PM and Friday, July 14th at 6:00 PM at the Butler Garden. Call 570-359-3888 or email dr.rachel.leskosky@gmail.com to save your child's spot for either or both dates.